John Hodges 🖼️
Boy Holding Photomontage I Did of Carol During My Light Work Artist's Residency, Syracuse, New York, 1989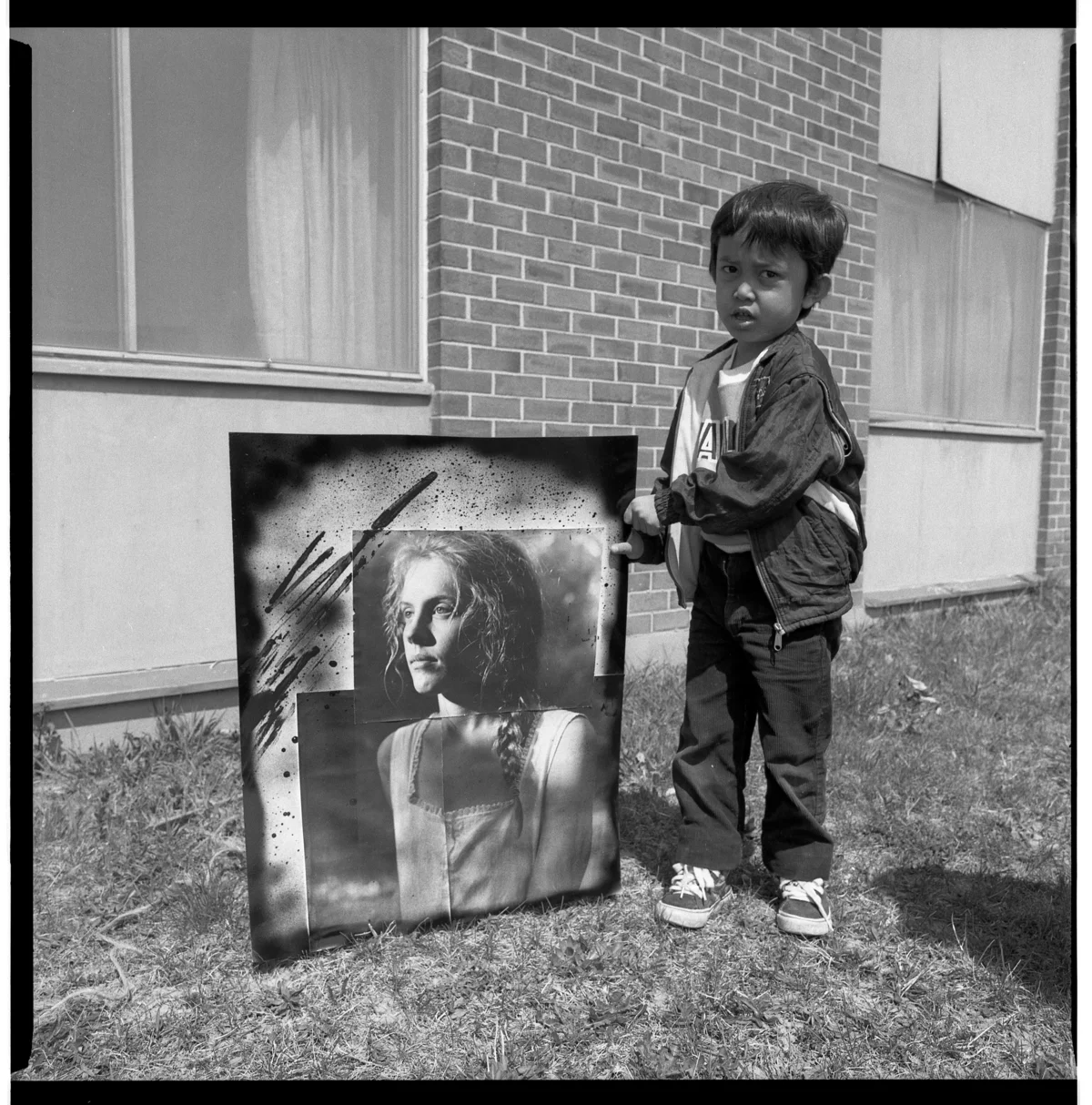 Artist's Statement
Back then I favored a Bronica SQ-A medium format SLR, a nice box of a camera from Japan that I used in conjunction with a Vivitar 283 flash with diffuser. The flash was attached to the camera via an L-bracket that screwed into the camera's tripod hole. Each time I took a picture with the flash attached, which was most of the time, an electrical shock transferred through the steel button into my arm, a shock significant enough to make me worry about shutter speed, for if the speed was too slow, my jerking reaction to the shock could cause the image to blur. Me, I liked a sharp picture. The picture here within the picture looks sharp to me. So does the picture that is a picture of the picture with something else added to it, shapes and planes that make one pause and wonder.
We see squares within squares, square windows and rectangular bricks, pleated curtains and three sheets of long-expired 11x14 Ilford matte paper that I bought at knockoff glued to a blotter page. I had spray-painted the edges to achieve a vignette quality, and had scraped some acrylic paint across the silver emulsion, going after a quality of shooting stars, comets, and outer space, for that's how I thought of Carol, as far-out and otherworldly, a seductive, magical creature from another dimension, one that could shapeshift and fly and travel and control the properties of time and space. As I would live to find out, I was not wrong in these intuitions.
Well, I had just finished making the thing and sorta wanted a picture of it. I saw this boy hanging around the student housing buildings, where the resident artists were put up. He seemed not to know English so we communicated through hand gestures. The boy, you see, served as my art stand. I did not know him from diddly-squat. His parents were nowhere to be seen. After the picture I went inside. I never saw that boy again. Except in this picture where his eyes are one dimension removed from the eyes on the paper. Both subjects, though, are stuck in that paper, silent, alluring and forever strange.
About the Artist
John Oliver Hodges' photos and writing have appeared in Juxtapoz Magazine, Ain't Bad, Oxford American Magazine, Southern Cultures Magazine, Hamburger Eyes, and Iron Horse Literary Review. He lives in New Jersey and has a full-length nonfiction account of his father, Our Dad the Commie, forthcoming from Frayed Edge Press.