Shelbey Leco 🖼️ ​
Rock Bottom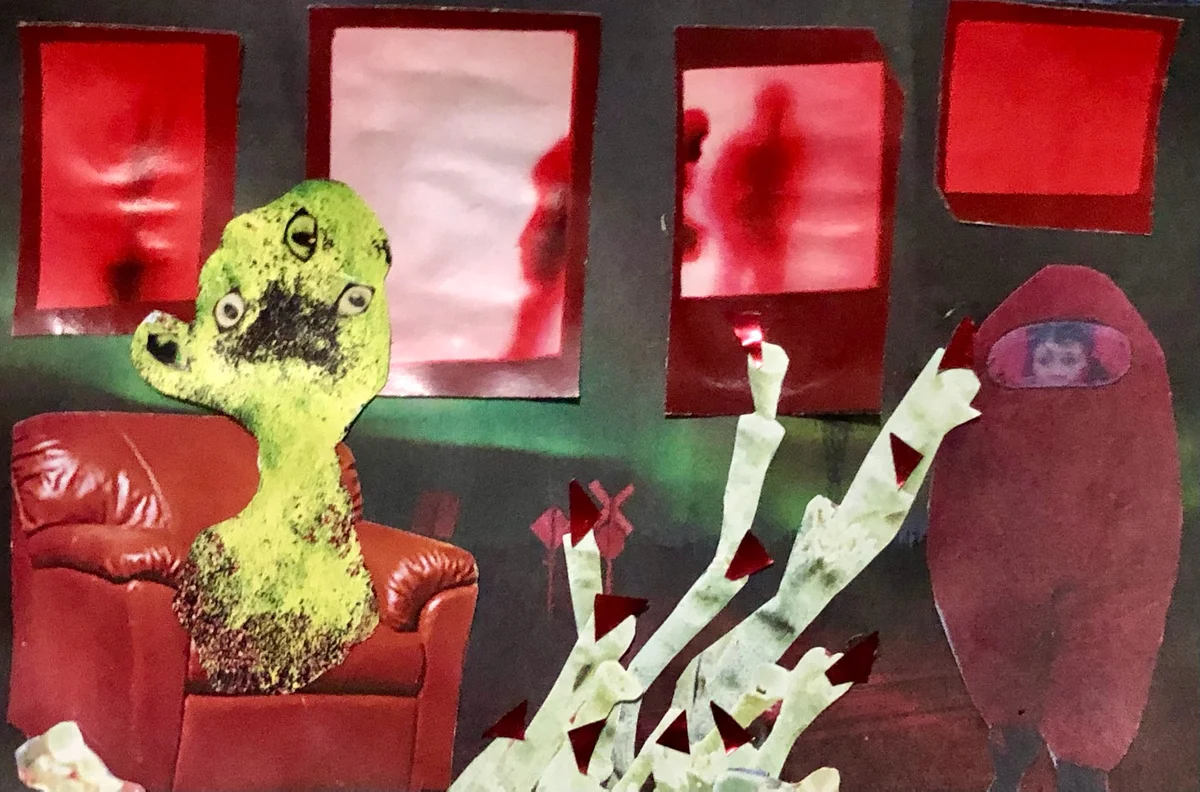 About the Art
Many people take great comfort in the mundane. For example, some people will choose to live in their hometowns that they were born into. They will go to school, work, get married, have kids, buy a home, and start a family all within this one town. The people grow old and the businesses change out, but you can leave and come back and nothing changes.
In Rock Bottom, I use techniques from collage with materials from a variety of sources including discarded magazines, candy wrappers, second-hand books, and old postcards. I enjoy incorporating discarded elements / trash to give it another purpose and turn it into something cool or interesting.
Rock Bottom was inspired by my personal experience moving away from home for the first time alone. I moved from New Orleans, Louisiana to Seattle, Washington. In the piece, I am represented by the girl in the red bubble suit. It was scary and hard to adjust to, especially never owning a coat in my entire life being from Southeast Louisiana going to the Pacific Northwest. For me it was truly like visiting another planet and I loved it.
You Deserve Better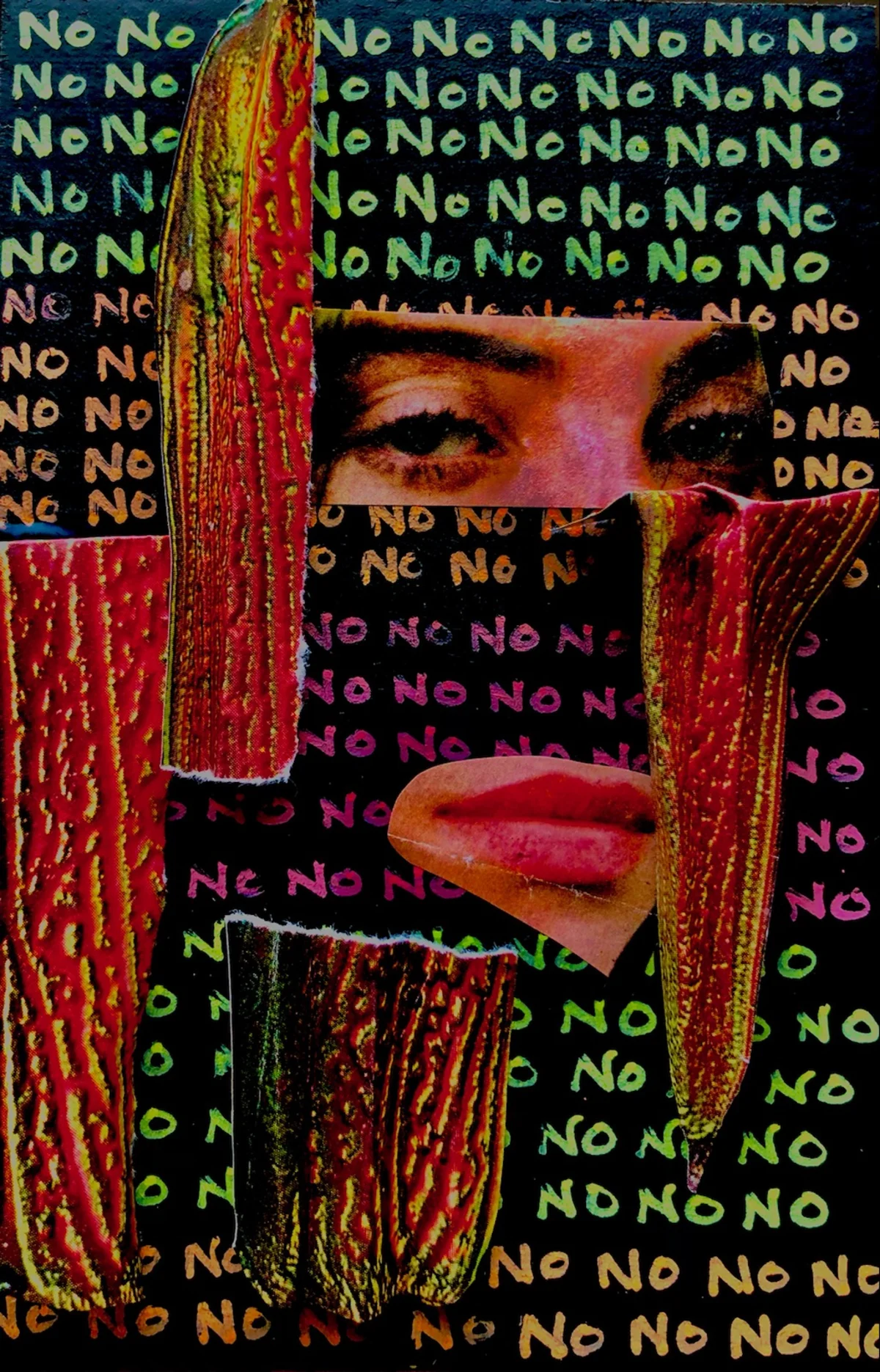 About the Art
You Deserve Better was inspired by a FaceTime call with my friend and is an examination of why one thinks that they are subjected to the life they are given. We are not defined by our circumstances and we must resist in order to open ourselves to new worldviews.
In this piece, I have used the techniques from printmaking and collage. For the background, I used a 4" brayer roller and rolled black intaglio ink onto cardboard. The collage elements I like to use are discarded magazines and second-hand books.
The dark background represents my current life situation. The calligraphy No's at first glance, can be looked at as deviant, but they symbolize resistance to wanting a better life. The elements of the: eyes, eyebrows, lips, and beetle wings are things of beauty. These are pieces that are highlighted from the darkness or reasons for having a better life.
You Deserve Better II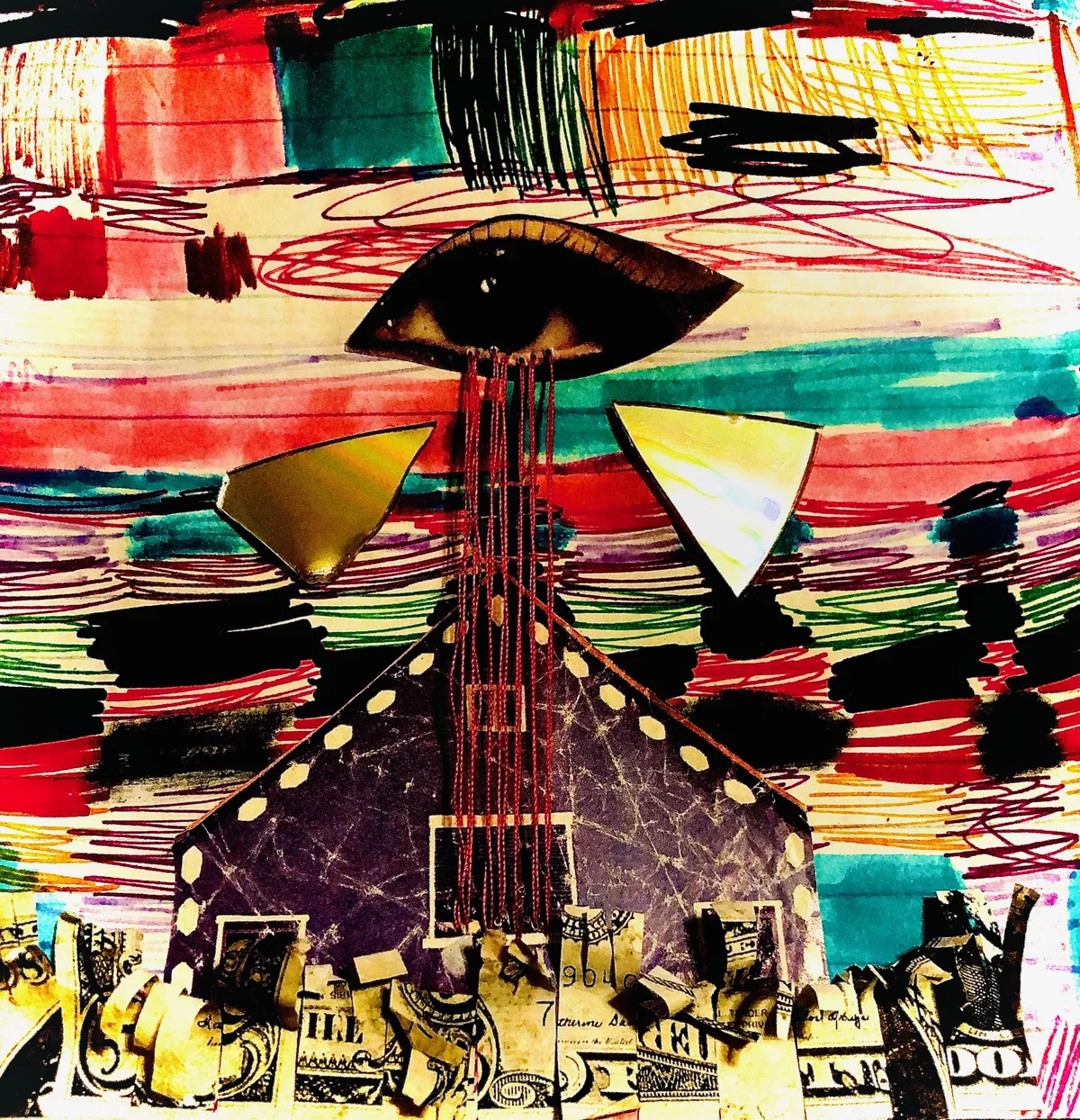 About the Art
You Deserve Better II is the second piece in this series. It has a general theme and an examination that asks the question, Do I have be subjected to the life that I am given?
In this second piece, I predominantly use techniques from collage. I've cut out images from magazines and pasted them to my loose leaf background. Some of the images I have: crumbled, cut, or folded over in order to create texture. I also enjoy incorporating needle and thread work to my pieces, when I can.
I have integrated child-like / manic scribbling on looseleaf paper as a representation of my environment. It is symbolic of me moving back home with my family in New Orleans from Seattle. I've been very sad about it, as indicated by the crying eye into the dark bedroom window and shards of glass pointing toward me.
About the Artist
Growing up in Southeast Louisiana outside of New Orleans, Shelbey was always inspired by nature and art. She graduated from the University of New Orleans with a bachelor's in Interdisciplinary Studies in Urban Society with disciplines in education, english, and anthropology. She enjoys traveling, art, and exploring new places.