Jennifer Weigel 🖼️
I'm Not Speaking to You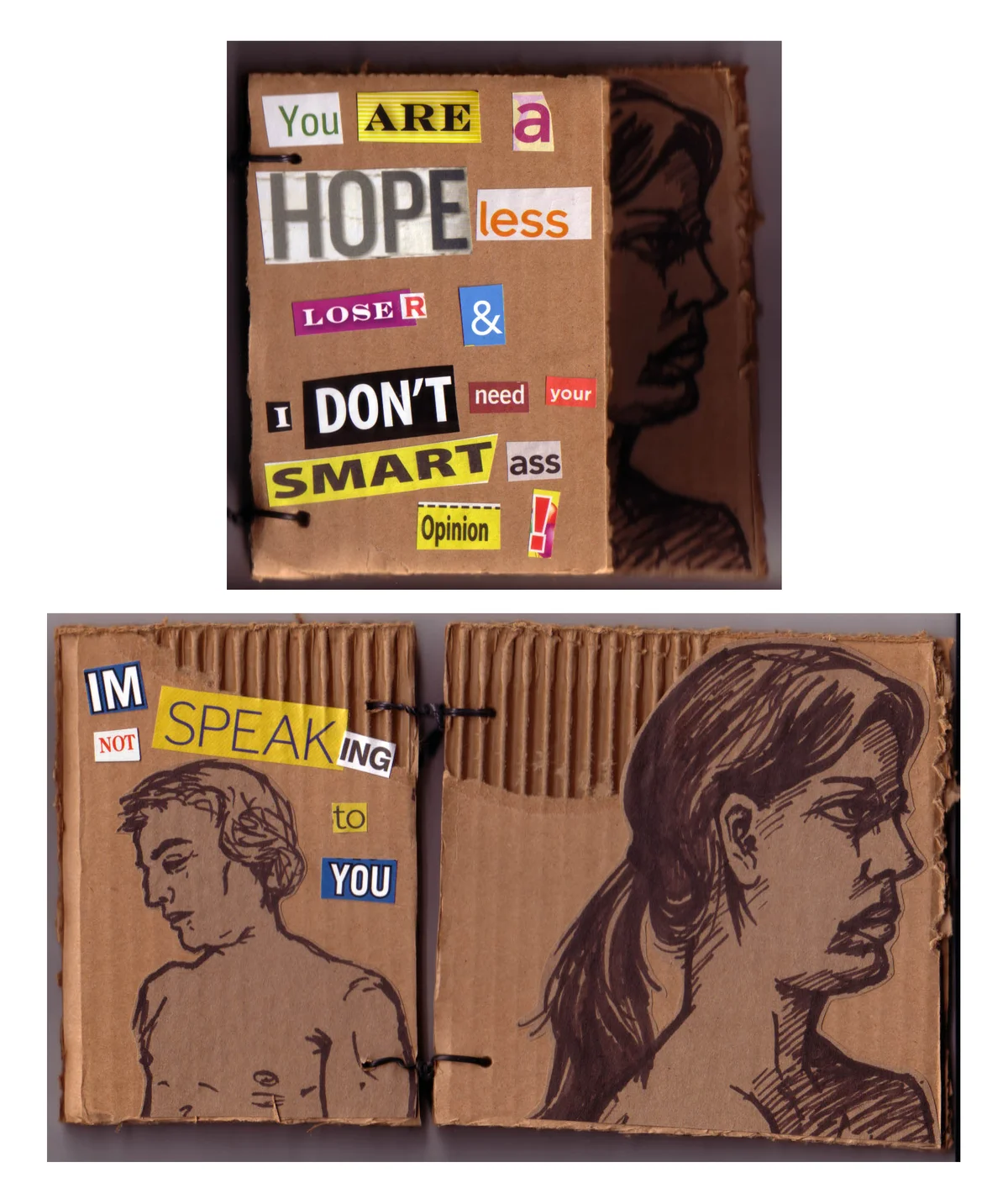 About the Art
"I'm Not Speaking to You" is a collage of figure drawings and found lettering on cardboard. Back in the day, I was a part of a group of artist friends who would take turns modeling for each other nude, so I had a number of figure drawings, sketches, and other studies that many would consider practice or throw away pieces because they can be difficult to show and are often interpreted as unfinished.
I like to take these sorts of random studio ephemera and rework them into collages and other contexts. In doing so, I like making throw away art that is intentionally not precious. In these pieces, I often incorporate magazine and newspaper clippings, found corrugated cardboard, cereal boxes and so on. This is a large part of my mail art practice, and these sorts of things will get sent globally to friends, random artists in the network, and all-inclusive mail art shows.
I constructed this book out of torn cardboard held with plastic zip ties and then added the figures which were drawn on kraft paper I had lying around. The text evolved from me playing off of the mood that seemed to emerge; the figures seemed angry with one another. I used magazine ad text to respond to this to look like a sort of ransom note or devolved article.
My works often reflects on sentiments that we may or may not want to linger on, feelings we try to suppress or don't want to acknowledge. This explores more of the breadth of human experience and helps to voice those things we may or may not want to admit to thinking. We've all been there - it's totally relatable.
About the Artist
Jennifer Weigel is a multi-disciplinary mixed media conceptual artist. Weigel utilizes a wide range of media to convey her ideas, including assemblage, drawing, fibers, installation, jewelry, painting, performance, photography, sculpture, video and writing. Much of her work touches on themes of beauty, identity (especially gender identity), memory & forgetting, and institutional critique.